Mentoring practitioners in sustainable and collaborative short food supply chains
Mentoring is a reciprocal and collaborative at-will relationship aimed at catalysing personal and professional development of all participants. Mentoring was a key part of the COACH with a programme devoted to delivering over 200 hours of mentoring over the project, with 22 mentees and mentors participating in total. Participants were practitioners from different types of food initiatives and geographical contexts across Europe united by their support of more sustainable and collaborative short food supply chains.  
Mentoring mainly took place on a 1:1 basis, with mentors remunerated for their time (€60 per hour), though the programme also involved some group mentoring. All participants were expected to take part in an online training before beginning their mentoring relationships, to keep notes on their experience as they went along, and to give feedback at the end.  
The programme was popular among participants with 100% satisfaction recorded in feedback. Topics covered were diverse, including managing growth in small-scale businesses, coping with 'burnout', and changes in career focus. Mentees and mentors alike reported numerous beneficial impacts including increased confidence, energy, and fresh perspectives on their specific context. 
As part of the programme Coventry University developed several resources that were used in the programme and which may be useful for food-based organisations and other actors who are running mentoring programmes.
This short film (9'22") made during the COACH project explores the value of mentorships and apprenticeships in small-scale, agroecological farming in the context of community supported agriculture (CSA), showcasing stories from Hungary, the Czech Republic and Italy.
Mentoring user guide
Mentoring journey document
Mentoring questions guidance
Coaching and mentoring final report
Mentoring user guide
This document was developed by the COACH mentoring programme coordinators to inform participants, both mentors and mentees, about the programme's aims and duration, anticipated benefits for and responsibilities of participants and contact details of mentoring programme coordinators.
Mentoring journey document
Mentoring questions guidance
Coaching and mentoring final report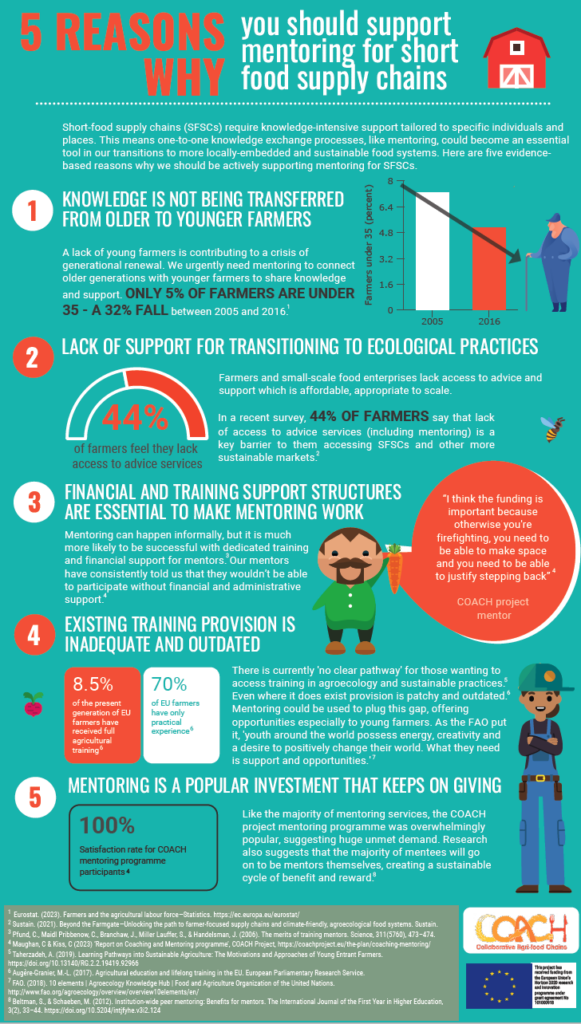 This evidence-based infographic flags five reasons why mentoring for practitioners engaged in short food supply chains is important and needs to be supported.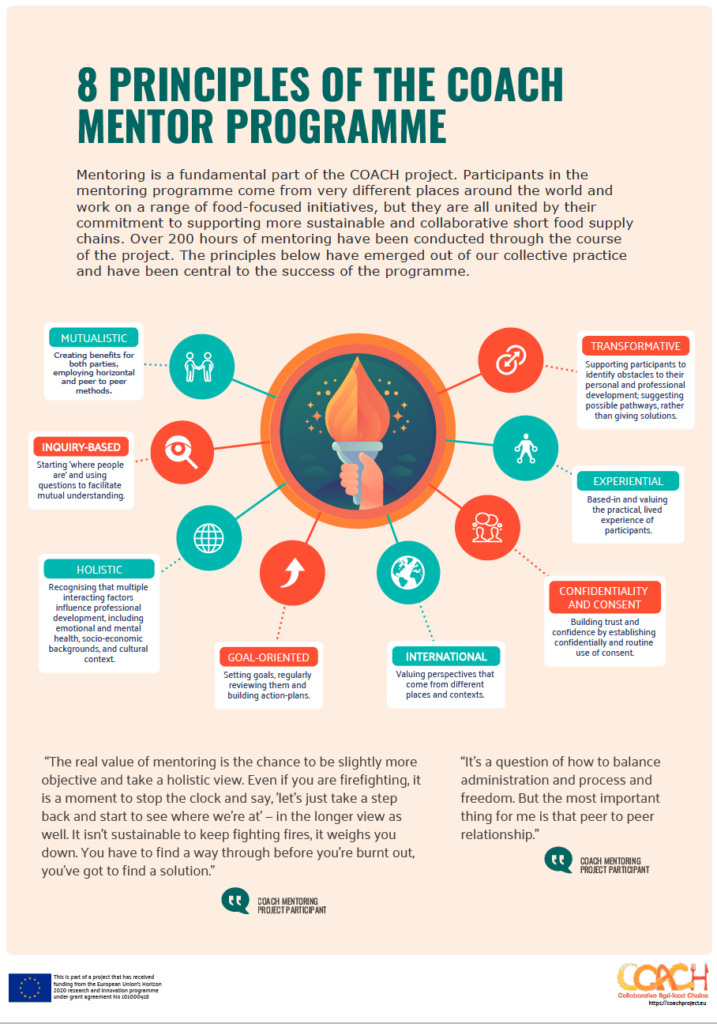 This infographic presents and describes the eight principles that underpinned and have been key to the mentoring programme's success.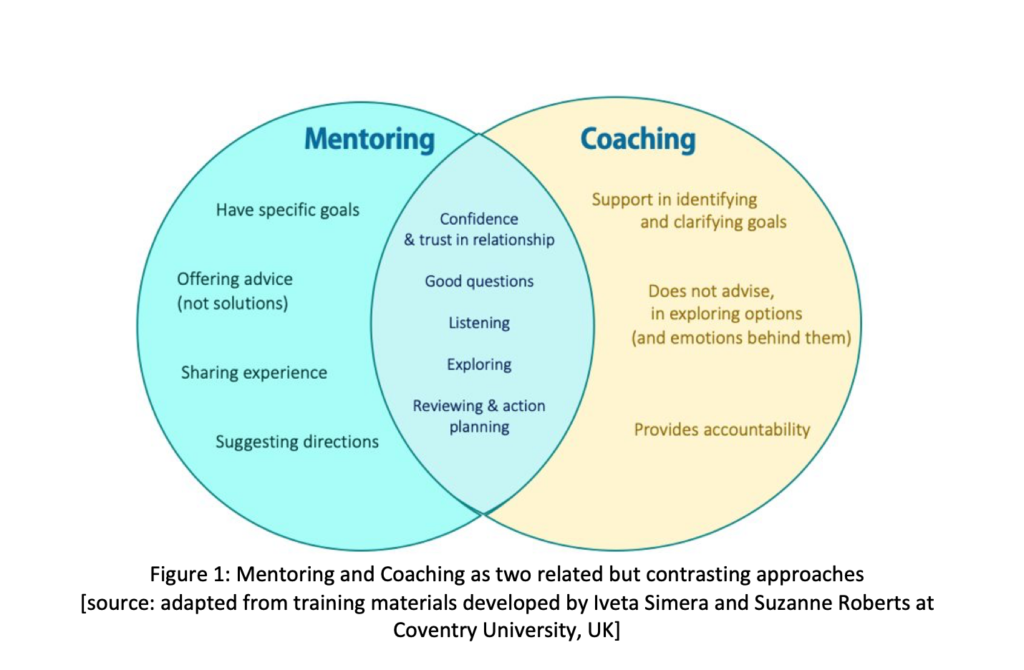 The diagram illustrates the features that coaching and mentoring have in common as well as the aspects in which they differ.
Diag'AMAP is a tool that allows: – To facilitate dialogue and exchange on the functioning of an AMAP at a given moment in time, take a step back on its practices and identify areas for improvement – To ensure that the operation and activities carried out in the AMAP are consistent with the ethics of AMAP (Charter of AMAP) and the legal framework of AMAP (non-profit, general interest and AMAP collective mark)
Participatory Guarantee Systems PGS
Participatory Guarantee Systems (PGS) are community-based and locally managed quality assurance and organic certification systems used in agriculture and food production. They involve active participation of farmers and consumers who collaboratively assess and guarantee the adherence to organic and sustainable farming practices, typically without the need for third-party certification agencies. PGS foster trust, transparency, and accountability within local food systems.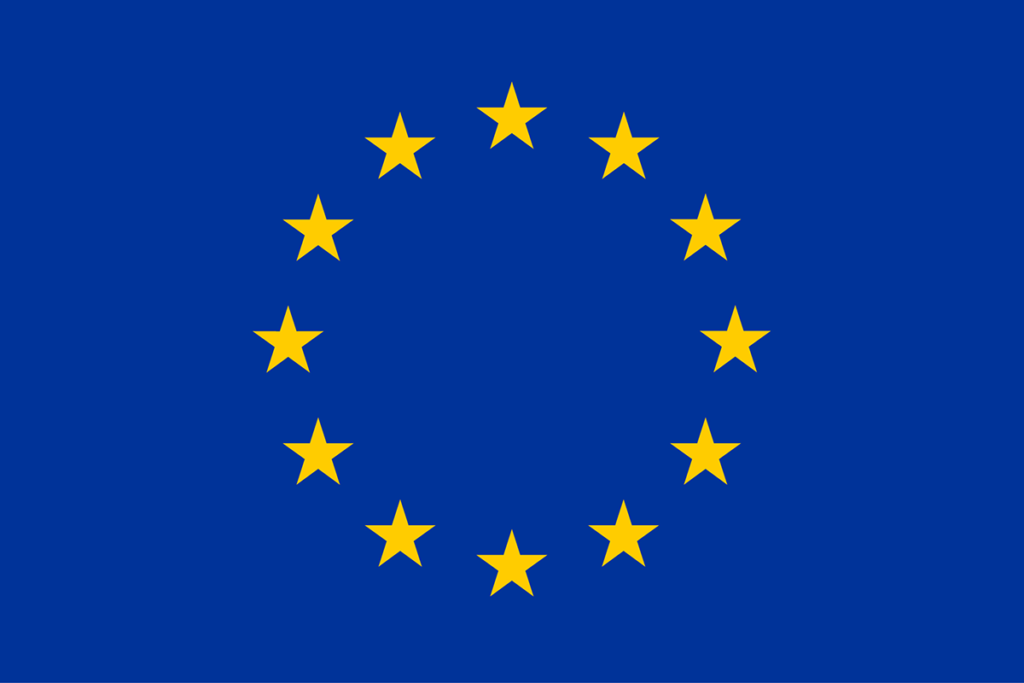 COACH has received funding from the European Union's Horizon 2020 research and innovation programme under grant agreement No 101000918